Providing Mezzanine Floor Design and Installation, Hertfordshire
The important factors to designing the ideal mezzanine floor solution was providing sufficient space to serve the business needs both now and in the future.
Summary
We were approached by our client asking us to develop space planning options for their existing Vehicle Maintenance Building. They had the option of constructing a new building alongside their existing building to accommodate their office staff, welfare facilities and storage space. However we found that their existing building had enough height to facilitate the install of a new two tiered mezzanine floor solution which would create enough space for both their immediate needs and for an expansion program to follow.
The Challenges – Maximixing Mezzanine Floor Space
During the survey and design phases we found that careful positioning of the supporting uprights was needed in order that none of the existing garage working space was lost after the mezzanine floor installation. This challenge meant that our teams were required to undertake a highly detailed survey of the existing building layout in order to position the supporting uprights in exactly the right location.
In addition, as the client needed to continue to operate, fulfilling its day-to-day workload, we could not construct the structure during normal working hours.
The Solution
Upon approval of the design by the client, the mezzanine and fit out to the underside was carried out.  Our teams installed the mezzanine flooring out of standard working hours in order that no operational impact was felt by our client.
The Mezzanine Floor Results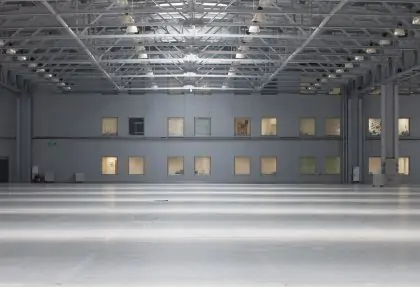 Due to the quick installation and no longer having to develop a new building, the Client saved considerable amount of time and money. They have all the space they need in the present with the added peace of mind that they are able to continue their business expansion plans without being hindered by a location that is too small for them.
We are delighted to say that the two new mezzanine levels were completed both on time and within budget.
Find out more about a Mezzanine Floor Development Solution for your building.