A large Public Sector organisation based near St Albans in Hertfordshire, originally housed in a 30 year old building which had very little maintenance over that time, required significant work in order to bring the building up to today's standards. Some areas were considered to be in disrepair and the void areas identified were deemed to be confined spaces and therefore the access was only permitted for personnel with specialist training.
In addition to the building requiring considerable work to bring the condition up to a high standard required by our client. As the site had areas that were considered to be of a sensitive nature, all members of our team signed the Non-Disclosure Agreements and were required to sign works permit documentation.
The contract awarded was to cover a 12 month duration for the works, at a total value of £900,000. It involves the sourcing and supply of high quality building materials for the entire project.
The Challenge
The building required considerable improvements to the fabric of the building, along with large scale security upgrades throughout. In addition, the ventilation and roof voids needing complete renovation to enable easy access for untrained personnel.
The Solution
Commercial Services worked closely with our client's existing team of project managers and architects to deliver the extensive works required.
The project required us to supply:
Design new area and roof refit
Bespoke laboratory furniture
The installation of new steel staircases
Glass partitioning
New air handling systems
New flooring
Security and fire protection systems
In order to meet the agreed timeframe, we needed all scheduled work to be conducted during working hours.  Therefore, our team conducted all their work in such a way as to minimise any disruption to our client.
The Results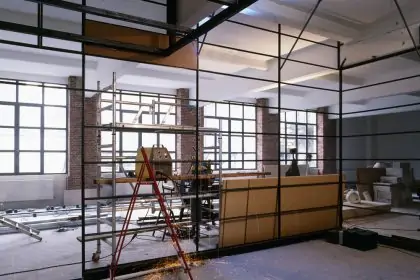 The final works have now included new full height door entry to roof voids with new stair and door entry to crawl voids on both east and west. Mechanical ventilation has now been installed into crawl voids making these areas accessible to maintenance staff without the need for specialist training in confined spaces.
We are proud to say that the project was been completed on time and on budget.