Summary
As part of their commitment to the environment and their strong Corporate Responsibility Policy, our client had a requirement to reduce their carbon footprint.
The Challenge – Commercial Property Solar Panel Installations
There were 2 phases to the installation project, first was the a £1.2million project fitting two new CFB condensing boilers to help reduce the overall energy expenditure and carbon omissions, and the second was where we were commissioned to design and install PV solar panel arrays to the South facing roofs of various buildings. This was a complex project, partly due to the fact that it was a multi-building site, with difficult roof access but also a tight schedule due to the changes the government deadline for FITs-feed In Tariffs which took effect at the beginning 2016.
The Solution
A number of meetings were held in order to discuss and agree the final design and specifications for the project. Once the Specifications and Design had been agreed, the biggest challenge was installing safely and efficiently within the deadline.
As with all projects, there were a number of challenges that needed to be conquered. We found that access onto the array of roofs was the main challenge for this project. In order to progress, we worked closely with a professional scaffold designer to ensure that safe and efficient working practices could be achieved.
The best product selection was vital to us winning the contract. Utilising our highly efficient procurement procedures, we were able to source the best products available on the market. This included 1410 Photovoltaic Panels and inverters (PV Panels) and we were able to ensure that they were available when the project status required them. This number is comparable to some solar farms
To complete the project and ensure it was delivering a full reporting mechanism, all the arrays of PV panels were connected to one central BEMS (Building Energy Management System). This allowed full and accurate analysis of all the savings being made.
The Results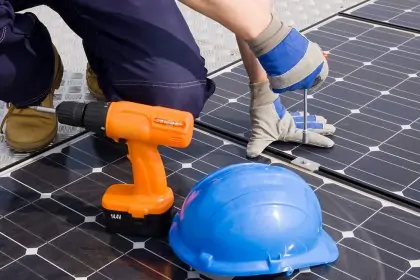 Overall it was a 12 week contract that we managed to complete in just 10 weeks with minimal disruption to Staff and visitors. The energy saved by the condensing boilers was an impressive saving of over £120,000 per year on gas alone. The BEMS provided the ideal reporting mechanism to help our client continue to monitor the installation's performance. The project has delivered substantial reductions to the carbon omissions, helping to support their Corporate Responsibility Policy.
Upon final completion, we're pleased to say that our client was delighted with the results and signed off all aspects.
We believe this project is an excellent example of Commercial Services UK delivering high quality results on large, complex projects across multiple building sites.