Providing Serviced Office Fit-Out in Harpenden, Hertfordshire
The key to the space planning was providing comfortable working areas with good sound attenuation from one office to the other; which is important in everyday offices and more so in a serviced office environment. We supplied 14 desks, desk screens and chairs and various storage cabinetry.
Summary
Our Client, The Instant Office was a new start-up business and took position on the First Floor of an office building in Harpenden, Hertfordshire. As with most start-up businesses, they had a tight budget and timescale for the completion of the project.
The Challenge
In order for the office space to work for their business, the office fit-out challenge was to make the floor space provide a comfortable working environment, whilst perfectly blending the wow factor to impress prospective clients with functionality and style. In addition to the budget constraints, the client also had a tight time frame for the office fit-out as they had waiting tenants!
The Solution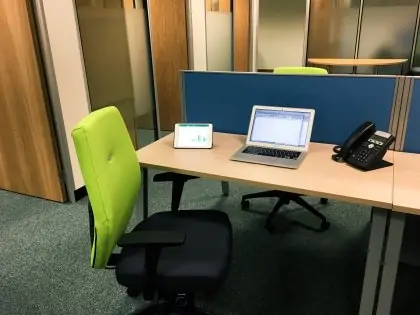 New start-ups are often constrained by budget and uncertainty; recouping initial outlay is always a top priority. In order to help achieve this, we sourced the right products at the right price that suited completion dates.
In order to provide the required offices a good level sound proofing, the dividing walls were built with two layers of special plasterboard, sound insulation in the cavity and also in the suspended ceiling void. The front elevations being full height double glazing with American white oak doors. The chosen glass partitioning really does help create bright working areas with light from perimeter windows being shared by all.
Leading up to our Client signing the lease (taking position), we carried out detailed surveys of the office space and provided our client with a range of options including space planning and office furniture. We ensured timely delivery by working closely with both the Client and our suppliers. In addition, we worked over the weekends and nights to enable hand over on time.
The Office Fit-Out Results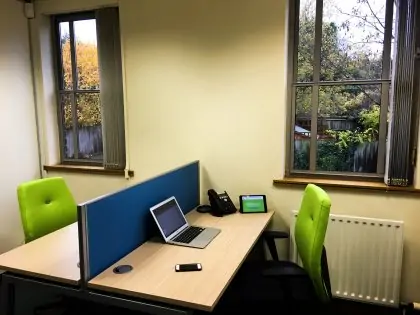 After we had completed the office fit-out, our client was delighted with the chosen partition systems and furniture and commented how well the colour schemes work. The Serviced Office is nearly fully occupied with all viewers expressing that the spaces on offer are brighter and better thought out than anything else offered locally. Those that have occupied offices and desks state that this is a happy and productive workplace.
This has been a success story for our Client and we are proud to have been a part of it. We hope to be involved in their next serviced office fit-out.