Mezzanine Floors can offer the perfect solution for businesses wishing to expand and grow without attracting the significant cost and upheaval of moving premises. The mezzanine floor can be a bespoke design to exactly match the business' needs saving you the substantial financial costs of re locating. As warehouses and offices in Hertfordshire, Bedfordshire and London become more difficult to source after the recession it makes sense to make the absolute most of your current location.
Following the addition of a mezzanine floor, businesses can benefit from:
Further office space
Additional storage
Expanded retail environment
Larger production area
Mezzanine Floor Installation Time
The time it takes a mezzanine floor to be installed is short when compared to arranging a business move. An average size mezzanine floor can typically be installed in just days. In comparison, it can take over 3 months to plan and move a business, so it's clear the mezzanine floor offers a far quicker solution.
The timeframe for a typical mezzanine floor from start to finish is:
Initial Survey – The initial survey can be completed within three working days.
Planning & Design – This phase is a more detailed survey of the existing floor structure etc. with full drawings and a detailed proposal would then follow within five working days.
Material Arrival – The building materials will normally arrive within ten working days.
Installation – The installation will usually take approximately four or five days depending on size.
Building Regulations – All building regulations are dealt with in with Planning and Design stage.
Mezzanine Floor v Moving – Cost Comparison
The costs, logistics and changes required with relocating a business can be huge. There is a vast number of business elements that will need changing which can include:
The hassle of staff relocation
Stamp Duty and other fees
Stationery – Letterhead, Financials, Business Cards etc.
Website
Social Media
Google Business Page
Adverts
Sales and Marketing Materials
Building Signage
Van Livery
Packaging
Insurance Policies
Banking Details
Companies House
All of this work and associated cost and hassle can be eliminated when choosing a mezzanine floor for your business expansion option.
Full Service Solution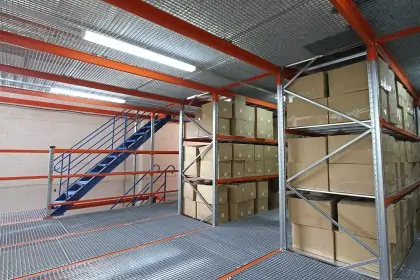 At Commercial Services UK in Hertfordshire, we offer the complete end to end solution for the design and installation of new mezzanine floors in Hertfordshire, Bedfordshire and London. We ensure that the design of the new floor will exactly match your business needs both in the present and the future.
We can also support you through the planning and building regulations by providing all the drawings and information you need. Nothing is left to chance; all fire regulations, accessibility and Health and Safety requirements will be taken care of during the planning an installation. This will give you the peace of mind to carry on with your day to day running of your business, safe in the knowledge that everything is covered.
We would welcome the opportunity to discuss your business needs and offer advice for the best mezzanine floor solution. Please give us a call on 0808 280 2562 or email us at info@commercialservicesuk.com.